Loving In-Home Care For Your Pets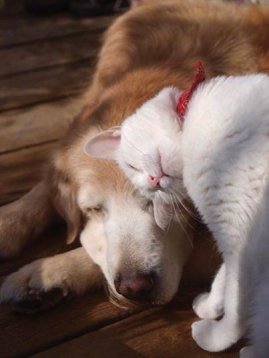 DID YOU KNOW?
As a professional pet sitter for 10 years and a pet owner for 40+ years, I am always fascinated about anything to do with animal information. Even though I have a lot of pet care experience, I am constantly learning more all the time. I know that my education about pets is an ongoing experience and I welcome any new knowledge that will help me with my cat sitting, dog sitting, and also passing along this information to pet owners.
Discover how much you really know about our canine and feline companions.
Felines are very neat drinkers – they take about 4 laps per second, or 5 teaspoons in a minute.
 The world's first dog show was held in Britain in 1859; the first cat      show in 1871.
 Each cat's nose is uniquely ridged – much like a fingerprint on a human.
A running dog averages 19 mph, while greyhounds can move at a 45 mph clip.
A cat can move at 30 mph, with the cheetah holding the record at 75 mph.
62% of American households have a pet. That's more than 70 million homes!
Humans have 5 million smell-detecting cells, while dogs have more than 220 million.
Cats can jump seven times their own height.
Dogs do dream? Yes, they experience REM sleep, complete with paw twitching and movement.
A group of cats is called a clowder.
Dogs don't feel guilt. They may look like it, but they're really reacting to your displeasure.
Cats have 5 toes on their front paws, but only 4 on each back paw.
Contrary to popular belief, dogs can see colors, but in less vivid hues.
Cats have been domesticated about half as long as dogs.
Many dogs can understand up to 250 words and gestures.
A cat can spend up to 30% of its life grooming itself.
The name Fido comes from Latin and means "fidelity."
The most popular male dog names are Max and Jake; the top female names are Maggie and Molly.
10% of a cat's bones are in its tail, and the tail helps them keep balanced.
The noisiest dogs are Beagles and Collies, and the quietest is the Basenji (they an't bark at all).
Cats have two vocal chords and can make about 100 vocal sounds, while dogs make only about 10.
*Source: FM mymagazine 2015
At Kelly's Pet Sitting, we are dedicated to providing the very best pet care for your pets. And that means that we are always educating ourselves about pet care, behavior, nutrition, etc  Whatever type of pet sitting you are looking for: cat sitting, dog sitting, dog walking, or other types of pet care, we are ready to serve your needs. 
Please feel free to share any comments, useful articles and/or personal experience on our blog or Facebook Page. We consider what we do as an ongoing learning experience and the more we know and the better prepared we are, the more we can help our precious pets live their best lives!
The Dangers of Antifreeze
My blog this month is a post by Dr. Jeff Grognet and Mike Annan at ACE Academy for Canine Educators. Antifreeze is so deadly that I wanted to highlight the importance of keeping it out of reach from your pets. Without immediate veterinary treatment the prognosis for recovery is very grim. Dogs and cats are very curious by nature so I felt this was extemely important to share. 
Ethylene glycol, the most common type of antifreeze commercially available, has an extremely sweet taste. This means that pets, wildlife, and even children are attracted to it. Unfortunately, ethylene glycol (EG) is also very toxic. Once it is absorbed through the intestinal lining, it is metabolized in the body to a chemical called oxalate. In the blood, oxalate causes little harm, but when it concentrates in the kidney tubules, it forms microscopic crystals. These crystals plug the tubules, block urine flow and shut down urine production. With nowhere to go, toxins build up in the bloodstream and poison the pet. When EG is first consumed, the animal suffers from vomiting and delirium but, in many cases, owners do not notice these symptoms. Over the next few days as kidney function deteriorates, drinking increases significantly. Once toxins reach a toxic level, which is normally three to four days after EG consumption, appetite falls and the legs become weak. Over time (a few more days), the toxins cause extreme lethargy and dullness. Pets can then slip into a coma or begin convulsing. Death soon follows. Treatment, once signs are evident, is considered futile. The kidneys are already damaged beyond repair. The only ones that recover from EG toxicity are ones that are caught consuming EG and treated immediately. If therapy begins within an hour of consumption, the conversion of EG to oxalate can be inhibited and the poisoning averted. The treatment for EG poisoning is administration of ethyl alcohol (the one you drink) intravenously. The high level of ethyl alcohol in the blood saturates the enzyme that converts EG to oxalate and stops oxalate from being created. The EG is eliminated from the body and causes no harm. Alcohol intoxication must be continued for 48 hours. Because EG poisoning is so deadly, it's not surprising it is the number one cause of fatalities in dogs and cats. It is also an issue with children who may find the bright, often yellow container attractive and consume it. This has led to pressure from both veterinarians and animal welfare groups against antifreeze manufacturers and government for change. Years ago, and even now, groups promote the use of the non-toxic antifreeze propylene glycol instead of EG. Labeled as "pet-safe", propylene glycol is slightly more expensive than EG, bit it is a great way to protect dogs. You can ask your mechanic to add this instead of the traditional antifreeze on the next radiator fill up. The other way to protect pets is to make EG unpalatable. This is done by adding a bittering agent. British Columbia was the first province to enact laws protecting dogs from this toxic antifreeze. Legislation took effect January 1,2011 and it makes it mandatory to add an extremely bitter substance to antifreeze and engine coolant. But, this only affects EG sold at the retail level in BC. Though the bittering agent will lessen the appeal of EG to pets, it does not eliminate its toxicity. You still need to be careful when handling or disposing of any antifreeze product. And, a loophole is that mechanics aren't required to use the safe antifreeze because they aren't selling it. So, make sure you know what is added to your radiator.


Dr. Jeff Grognet and Mike Annan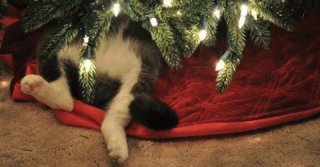 The Holidays are just around the corner. Time for family traditions: Christmas Trees, Dinners, Gift Giving, Celebrating.
But if you have cats it is best to know some ways to keep your cats out of harms way.
Many families enjoy having a Christmas Tree in their home, but often this is a cause for concern for pet owners. Cats may see the ornaments and lights as fantastic cat toys and the tree is for climbing, right? And cats are very curious by nature.
Here are some tips to help keep kitty safe around the Christmas tree.
Wrap aluminum foil around the trunk. This will help discourage climbing since cats don't like the the feel of it.
Remove the lower branches. This serves many purposes. Cats are very good climbers and this may make it harder for your cat to climb the tree. This will also eliminate the lower hanging ornaments that will tempt kitty to play with.
Do not use tinsel on your tree. To a cat, tinsel looks like a shiny string to play with but is very dangerous if your cat were to ingest it. This can cause serious injury to your cat resulting in expensive veterinary bills, or worse.
Watch the electrical cords. Chewing the cords can cause serious harm to your pet. You can tape the cords to the wall to prevent chewing but it is always best to unplug cords if you are not there to supervise your pets.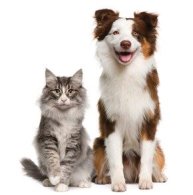 5 REASONS WHY PET OWNERS ARE CALLING KELLY'S PET SITTING
Written by Kelly Hall, Owner of Kelly's Pet Sitting, LLC
Our business has been growing steadily in the 10 years we have been providing pet care to Medford, Oregon area clients. So we have to ask, Why are pet owners calling Kelly's Pet Sitting for their dog and cat sitting needs, instead of another professional pet sitter in our area?
WORD OF MOUTH: Many of our new clients come to us because one of our existing clients referred us to them. We feel this is the greatest compliment of all when we hear the wonderful things our clients have to say about us and that they want their friends, family and co-workers to receive the same great care that they have experienced.
PEACE OF MIND: I have clients tell me that Kelly's Pet Sitting gives them the Peace Of Mind that they have been looking for. What creates this Peace of Mind? Several things: Trust, Reliability, Knowledge of Pet Care, Behavior, Health, etc. Some have tried boarding their dogs in kennels and their pets returned to them stressed out or sick with kennel cough. Others have used friends, neighbors or family in the past and were not satisfied with the care their pets received (or even worse, no one showed up!). Others tell me, they are tired of imposing on friends or family (even if they do a great job) but even well-meaning friends or family sometimes forget, or make other plans, after saying they would sit for you. Not surprising that people have a life of their own, is it? That is why you hire a professional pet sitter who does this for a living!
At Kelly's Pet Sitting, your pets are are #1 priority. You schedule with us and you no longer have to worry about your pet's care. We will be there EVERY time as promised, giving your pets the top quality care and attention they deserve. We also keep in touch with you while you are gone. You can receive a daily text from your pet sitter, photos, etc. to let you know everything is going fine at home.
ONLY THE MOST QUALIFIED PET SITTERS:  Our clients love that we can offer flexibility in scheduling for our client's convenience. We are a small family owned business, not a large pet sitting company that feels like a chain store! Besides Kelly, the owner, who pet sits and manages the business, we have a couple of wonderful pet sitters on staff. Our pet sitters are: bonded, insured, experienced, back ground checked, and of course, true animal lovers. The only sitters I have on my staff are the ones that I feel completely comfortable having the sitter in MY home, caring for MY precious pets. Having more than 1 sitter enables us to back up one another in case of injury or illness, busy times, and allow the sitter time off to spend time with family and friends (very important!). No one can work 7 days per week/365 days per year (believe me I have tried), yet we are able to offer pet sitting services to you and your pets throughout the year!
AVAILABILITY: Because we do this on a full time basis (and how we make our living) we have more availability. Some "pet sitters" do this on the side and have to work around their school or work schedule which may not be convenient for you and your schedule. When they can't accommodate you, you are back to square one, wondering who will care for your pets.
GREAT CLIENT REVIEWS: You can also check out our online reviews.
ANGIE'S LIST: we have had some great reviews on Angie's List, but unfortunately they require more PAID Members for them to show up :(
Once clients have used our pet sitting services they are excited to tell other pet owners they know about us, so that they too can enjoy stress-free vacations or work days, knowing that their pets have the excellent care they deserve.
Whether you need dog sitting, a cat sitter, or any other type of pet care, we do that! We offer daily visits, overnights or dog walking while on vacation or at work. Kelly's Pet Sitting in Medford, OR is here to help!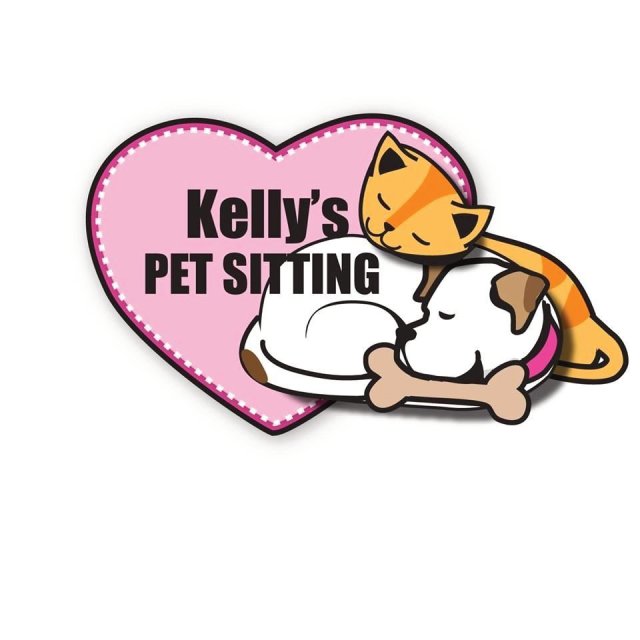 SO WHAT ARE YOU WAITING FOR? 
PHONE: Call us today at 541-601-7461 to discuss your pet care needs and to set up your complimentary "Meet and Greet" to meet you and your pets at your home. You'll be happy you did and your pets will be too!
SENIOR PET CARE TIPS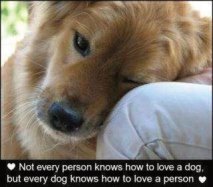 Taking care of a senior pet can be difficult, but there are many things you can do to make the process a manageable one. Below are a few preventative tips to help manage the aging process.
Good nutrition is critical to good health at all ages, so be sure your pet is on a proper diet. Check with your veterinarian for a healthy meal program that suits your pet's needs.
Other steps a pet owner can take to delay the onset of aging in their pets include:teeth cleaning to prevent gum disease; grooming to keep the skin and coat healthy and to be aware of any problems such as dry skin, thin or brittle coat, thin coat, body odor, or sore spots; and checking the ears for odor or gunk produced by infecting organisms.
The first sign of aging is a general decrease in activity level, including lethargy, a tendency to sleep longer, a waning of enthusiasm for long walks and fun activities such as catch. These symptoms could also be indicative of an illness and may warrant a trip to the veterinarian.
Hearing loss is a common consequence of aging, as is some deterioration of sight.
As aging advances, heart, liver, and kidneys lose their efficiency, and the immune system is less able to fight off attacks by bacteria and viruses. Bladder control may be affected, and muscles decrease in size and function.
Tips to keep your pet comfortable
Check your pet for fleas and ticks. Fleas can carry tapeworms and cause allergies; ticks can carry Rocky Mountain Spotted Fever and Lyme Disease. Older pets are more prone to these diseases since they have a decreased ability to fight off parasites.
Reduce calorie intake, if necessary, to prevent your pet from becoming overweight. Ask your veterinarian about a special diet if your pet needs to lose weight.
Use a baby gate to keep your pet away from the stairs or carpeted areas to avoid bathroom accidents and/or injury.
Most importantly, be aware of your pet's increased special requirements as an aging animal. Your pet may not remember to go to the bathroom outside or to eat, so you may need to remind them. And above all, be patient. With these simple tips, your pet may live years longer and better enjoy his/her time with the family.
Kelly's Pet Sitting has experienced pet sitters that know how to care for senior pets and what to look for if your pet has any changes in behavior or health that require attention.
Call us today for all of your pet sitting needs: 541-601-7461 or fill out the Request for Service Form on our website: kellyspetsitting.net. 
How to Be an Ideal Client and Win Your Pet Care Professional's Heart!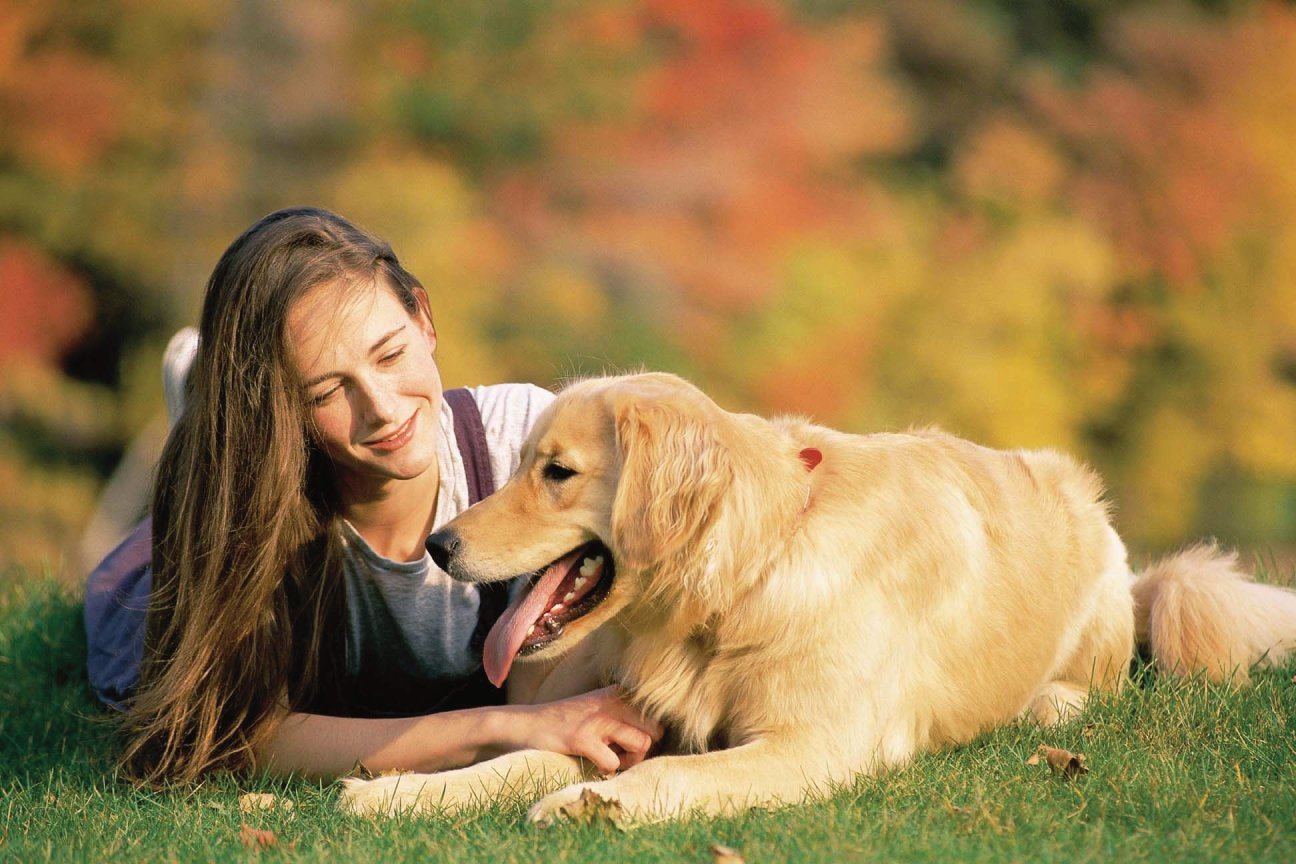 The following tips come from talking with pet sitters, dog walkers, and dog daycare owners over the years, and hearing about situations that they have faced with their clients. This may seem like a lengthy list of things to remember, but if you keep these things in mind you'll be helping your pet sitter, dog walker, or dog daycare personnel provide the very best care possible for your pets. And rest assured, the person caring for your pets has a much longer list of things to do than you do!
Be prepared for your initial meeting.
When you meet with your pet care provider for the first time, be sure to have the information available that may have been requested. This will probably include paperwork that was sent to in advance, keys, a garage door opener if necessary, a gate, alarm codes, or key cards. You may also be asked to show proof of vaccination.
If your pet care provider sends you paperwork to complete in advance, it's a good idea to highlight information you're unsure about, or simply make a list to refer to when you meet the pet sitter for the first time. And of course, if there's something not on the paperwork that you have questions about, be sure to make a note of that also. Completing the paperwork ahead of time will enable you and your pet care professional to go over things in a more leisurely way when you meet for the first time.
Being prepared will make a good first impression on the person you ask to care for your pets. And let's face it; people enjoy doing business with people who are prepared…it'll make things go more smoothly for everybody involved!
Be sure to provide contact and emergency information.
Give your pet sitter or dog walker the phone number, email address, or other contact information where you'll be while away so they will be able to get in touch with you in case of emergency. Ideally this should be in your pet care providers' hands before you ever leave home.
Be honest about your pets' health and behavior.
When you meet with a pet sitter, dog walker, or dog daycare for the first time, be honest about your pets' health and behavior. If your dog tends to be aggressive, withdrawn, afraid of storms, or has other characteristics that are worrisome, your pet care professional will need to know these things. It's understandable that as a pet owner, you may be hesitant to mention these things but many pet care providers have dealt with issues like these and will be able to work with your pet. If not, they may be able to suggest alternatives that will be more suited to you and your pet.
Book services at least 2 weeks in advance.
Whenever possible, call your pet sitter at least 2 weeks prior to the time you'll need their services. For pet sitting services during the holidays, even more notice is advisable since most pet sitters end up turning clients away at this time of year. Please don't assume that because you've used a particular pet sitter in the past that she'll have room for you if you call at the last minute.
Cancel services as far in advance as possible.
Everyone knows that things happen and that plans change at the last minute, but whenever possible be sure to cancel with your pet sitter or dog walker as soon as you know you won't need their services. In essence, you have reserved a certain amount of time with your pet care provider; time they cannot spend with someone else's pets. The courtesy of canceling early allows them to book someone else at that time. Keep in mind, that many dog walkers and pet sitters will charge a fee if cancellation is made within a certain number of days of the scheduled service, so be sure to ask about their cancellation policy.
Be flexible with your requests.
While your pet care professional's goal may very likely be to give you and your pets such wonderful service that you'll feel like you're her only client, chances are she has many others. When you speak with her, let your preferences be known but know that flexibility is the key. Her goal is to give you and your pets the best possible care. Although it may be your preference to have someone visit your pets at 7 a.m. sharp every morning during your absence, she may have five or six other morning clients and will need to schedule her visits according to route, pets' needs, and time. And at any time, unforeseen circumstances may arise that would prevent your pet sitter or dog walker from arriving at the exact specified time. Rest assured though, they will do their best to see to it that your needs and preferences are met.
Understand that extra services require extra time.
Pet sitters and dog walkers are constantly budgeting their time and readjusting their schedule to accommodate things that come up unexpectedly. And while many will offer to do extras to make your home look lived in, their main focus is on your pets. Unless you've spoken with your pet sitter in advance about additional services, don't assume she'll be available to do them if you leave a laundry list of items without asking first. It puts her in an uncomfortable position, and because of time involved, could compromise the time she spends with your pets.
While most pet sitters are more than happy to do extra services on occasion, keep in mind that there may be extra charges involved. It's not that your pet sitter is trying to nickel and dime you, but some tasks that take you no time at all, may take more time for her simply because they're not routine tasks for her.
Inform your pet sitter or dog walker of any houseguests.
If anyone will be in your home while you're away, discuss it with your pet sitter or dog walker. Many will not enter a home if they see someone is at your home that they don't know or aren't expecting. At first this may seem unreasonable but there are some very good reasons why pet sitters have this policy.
The number one issue is safety, for the pet sitter and for your pets. If your pet sitter or dog walker were to walk into a home that's being robbed it could prove deadly. He or she may also walk in on someone who is at the home for legitimate reasons, creating at best an awkward encounter, requiring an explanation by both parties.
In addition to the safety reasons for not wanting to enter a home when someone is there, it puts your pet sitter in an uncomfortable position if your houseguest says they'll care for your pets. They may mean well, but keep in mind that you've contracted service with your pet sitter or dog walker, and the decision to cancel that service can only come from you unless you've made other arrangements with your pet care provider.
Confirm your travel plans and pet sitting services.
Call or TEXT your pet sitter before you leave town as one last confirmation that your trip is going as scheduled. There have been cases involving pet owners booking the wrong dates by mistake, or the pet care business adding them to their calendar on the incorrect dates. Calling your pet sitter just before you leave will ensure that you both have the correct dates.
Be sure your pet sitter or dog walker has the necessities.
Make sure you leave enough food, medications, treats, or other food items your pet will need while you're away. Other supplies that your pet sitter may need might include paper towels, leashes, carrying cases or other items. See our Pet Owner's Checklist to help jog your memory.
Keep your pet sitter, dog walker, or dog daycare informed of any changes.
If you call on the services of a professional pet care business repeatedly, you'll want to be sure they are aware of any changes in your pets' health, feeding instructions, or behavior. It's also important to inform them of any changes in your home such as a new alarm system, new keys, lighting, etc.
Pay your pet care bill as agreed.
Many pet sitting businesses will require payment to be left for them to pick up on their first visit with your pets. Dog walkers and dog daycares often request payment in advance. Find out what the policy is for the pet care business that will be caring for your pets and be sure to pay your bill as requested. If it becomes necessary to contract last minute or extra services, be sure to check what the payment method will be for those as well, as they may be handled differently than regularly scheduled services.
If you have concerns, contact your pet care provider as soon as possible.
Whether you return home after a two-week vacation or a long day at work and notice something that concerns you, call your pet care professional immediately. You and the person caring for your pets will be better able to help resolve any issues or misunderstandings if you're able to talk about it while it's fresh in your minds.
Chances are pretty good that your pets have already won the hearts of the person who'll be taking care of them. With a little bit of planning and understanding you can do the same!
Kelly's Pet Sitting is a Licensed Business, Insured and Bonded to protect your pets and home, as well as Pet First Aid Trained. We offer pet sitting in your home for cats, dogs and other pets, dog walking and overnight house and pet sitting.  Call us today and find out why so many clients feel they couldn't do without us!  541-601-7461
Text courtesy of  Pet Sit USA
/