Loving In-Home Care For Your Pets
MEOWY CHRISTMAS AND YAPPY NEW YEAR FROM KELLY'S PET SITTING!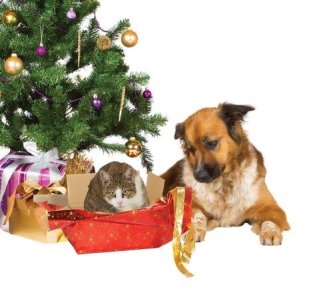 With the holidays here and all those yummy treats being passed around, does your dog or cat look at you with pleading eyes?  I know mine do, but we try to limit human food for our pets.  So, I thought it would be fun to share some dog and cat treat recipes you can make at home.  That way you can spoil your pets a little too.  With all of the pet food and treat recalls happening, it's hard to know which brand of treats you can trust!  The four-legged members of your family will be so happy you took the time to show you care by providing them with wholesome treats.  Moderation is important.  Please remember:  These are treats and should not be substituted for the main course.  Use in moderation – Do not exceed 1/10 of your dog's diet.  Caution: If your dog has known food allergies or is on a restricted diet, consult your veterinarian before preparing and serving any of these recipes.  So without further ado, let's "dig" right in!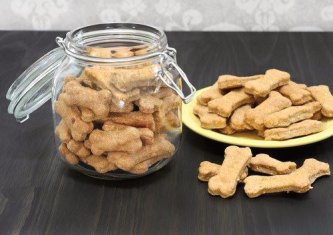 CINNABONE – The perfect bone for the dog with a sweet tooth!
2 TBS Honey                                       1/2 cup Milk                                   1/2 tsp Cinnamon                                 1/2 cup Wheat Germ
2 TBS Molasses                                    1/2 cup Brewer's Yeast*
2 TBS Vegetable Oil                            *look in health food section
1-1/2 cup Whole Wheat Flour
Preheat oven to 350 degrees.  In a large bowl, mix together honey, molasses, oil, milk and cinnamon.  Gradually add flour, yeast, and wheat germ.  Roll dough to 1/4" thickness and use cookie cutter to cut into shapes.  Bake at 350 degrees on an ungreased cookie sheet for 20 minutes or until bottoms are brown.  Depending on size of cookie cutter, makes 1 to 1-1/2 dozen.
P-NUT BUTTER/BANANA COOKIES - Your Pup will not be able to resist!
1/2 cup Peanut Butter                   1/2 cup Wheat Germ
1/2 cup Mashed Banana               1-1/2 cups Whole Wheat Flour
1 large Egg
Preheat oven to 350 degrees.  Combine peanut butter, banana and egg in a large bowl.  Stir well.  Gradually add wheat germ and whole wheat flour.  Roll out dough to 1/4 inch thickness and cut with cookie cutter.  Bake on ungreased cookie sheet at 350 degrees for 35 minutes.  Makes about 1 dozen.

 







PUMPKIN DOG BISCUITS – Perfect for the Holidays!



















 2 Eggs                                                    1/4 tsp Sea Salt

1/2 cup Canned Pumpkin             2-1/2 cups Brown Rice Flour *

2 TBS Dry Milk Powder                   1 tsp Dried Parsley (optional)

 


Preheat oven to 350 degrees.  In large bowl, whisk together eggs and pumpkin to smooth.  Stir in dry milk, salt, and dried parsley.  Add brown rice flour gradually with spatula or hands to form a stiff, dry dough.  Turn out onto lightly floured surface and if dough is still rough, briefly knead and press to combine.  Roll dough to 1/4 inch thickness and cut with cookie cutter into shapes.  Place on ungreased cookie sheet at 350 degrees for 20 minutes.  Turn biscuits over, then bake an addition 20 minutes. 

·         Brown rice flour gives the biscuits crunch and promoters better dog digestion.  Some dogs have allergies and do not tolerate wheat.

 


 


CHICKEN JERKY – You won't have to worry about China Products!

Slice chicken strips into long thin strips. (TIP: Chicken that is partially frozen slices much easier)  Place on greased cookie sheet (I use PAM spray).  Bake 3+ hours at 180 degrees.  Let cool and store in plastic bags.  Can be frozen for later.

 





AND LET'S NOT FORGET ABOUT OUR FURRY KITTY FRIENDS!

 

KITTY TUNA DREAMS – Your kitty will love these treats!

 


1/2 tsp Vegetable oil, or more as needed. 2 eggs, beaten

1 cup canned tuna in oil                                                 1 tsp Brewer's Yeast (optional)

2 cups bread crumbs




NOTE:  Recipe directions are for serving size of 72 (double batch)

Preheat oven to 350 degrees.  Lightly grease baking sheet with vegetable oil.  Drain tuna and reserve oil;  add enough vegetable oil to make 1/4 cup total.  Combine tuna, reserved oil, bread crumbs, eggs, and Brewer's Yeast in a bowl.  Drop 1/4 teaspoon of tuna mixture 1 inch apart on baking sheet.  Bake about 10 minutes.  Cool biscuits and store covered in the refrigerator. 

 




FROM OUR FAMILY TO YOURS, MAY YOU AND YOUR PETS HAVE A PEACEFUL AND MERRY HOLIDAY SEASON!




Kelly's Pet Sitting in Medford, OR is open 365 days a year – That's right!  We care for your pets during the holidays so you can travel and enjoy your out of town family.  We do appreciate advance notice for holidays, as we do get fully booked at those times.  Go to our website for more information:

www.kellyspetsitting.net

.  You can contact us at:

[email protected]

or call: 541-601-7461.

 

 

LINKS:

Here is a link to "Bake A Bone Dog Treat Maker" on Amazon

 


Link to Dog Treat Recipe Books on Amazon




 


0

/